Author Visits
5 Reasons to have an Author Visit
To excite kids about reading. An author becomes a real person to the students, bringing a more personal interest in books. Surveys indicate that an author's visit to a school encourages reading for pleasure, broader reading, and creative writing.
To inspire kids to write. Hearing about an author's real process creates a link for kids to relate what they are learning to what they can do. When they understand an author's own experiences, it prompts a respect and appreciation for the art of writing.
To promote creativity. Children thrive on imagination and discovery, the kindling for learning, and new tips and real stories about writing encourages their own creativity.
To gain extra teaching support. It amazes kids to realize that the topics their teachers have been teaching in school are being used by real authors. There's the moment of, "Hey, my teacher was right about that!"
To encourage perseverance & jumpstart a dream. Learning that even authors run into frustrations like "writer's block" makes the problems seem more manageable; such support might be all it takes to ignite a passion for writing. Who knows — you might be boosting a future author in your class!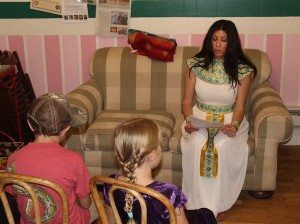 Do you only visit schools or will you visit libraries or bookstores too?
I am delighted to work with ANY group who wants to help kids get excited about literacy!
How much do you charge for an author visit?
My requested honorarium for an author visit varies, depending on whether it's for a whole day event, a half day event, or a workshop. In addition to a speaking fee, I charge standard travel expenses for distances over ten miles. Please contact me for the most accurate fee schedule.
Would you be willing to offer a discount for a visit?
It never hurts to ask! I periodically offer special pricing and additionally give discounts if:
the organization collects a preorder of $50 or more of my books
the organization allows me to sell my books before or after the presentation
What is included in an author visit?
For a *visit, you get:
an Author Visit Packet that includes: reproducible order forms, information about the author, coloring pages, and other marketing material; lists of suggested activities for involving students in preparing for the visit, suggested schedule options, suggested "Good questions to ask an author," and more;
a 30 – 45 minute presentation on a specified topic and time for questions;
opportunities for students or staff to "hang out" with the author. (This can range from a Meet-the-Author lunch to time for a school-newspaper interview to listening to a special performance prepared by the kids and plenty in between!)
a chance for book signings
*(These inclusions do NOT pertain to workshops, since those run differently.)
Do you do workshops?
Absolutely. I offer a variety of small workshops focused on writing.
What grades are your presentations for?
My presentations are best suited for grades three through nine. Workshops will most benefit grades five and up.
What size groups do you present to?
I work with single classes of up to 30 students and also do presentations for whole school assemblies. I can be pretty flexible.
I've never worked on an author visit before—how do I start the process?
Simply request an Author Visit via the contact form on my website and include the following information:
the name of your organization
if the event is an assembly presentation, classroom presentation, or a workshop
the size and grades of the expected audience
if there is a particular curriculum/learning topic you want to see tied in
You will then receive an Author Visit Proposal, and I will work with you on adjusting it to best suit your organization's specific needs.
Once the Proposal is settled, you will receive your Author Visit Packet and an Invoice, and the visit will be underway!
I really want an author to visit my school, but I don't have the budget. What can I do?
Thankfully, there are ways to raise funds for an author visit! Here are some ideas:
Talk to the PTO/PTA about sponsoring an author visit, or find a local sponsor
Partner with another school to share the fees
Start a "penny drive" for students & staff to bring in spare change
Raffle off "lunch with the author" or books
Hold a fundraiser, like a silent auction
Ask parents to donate airplane/hotel points